First published March 6, 2015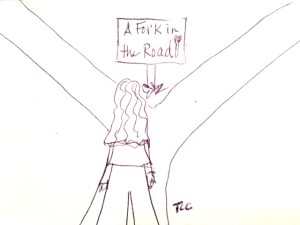 Since writing my last blog post "2014 in Review and Plans for 2015," things have changed. For various reasons, I am planning to focus more on NLRBE-like businesses and family compounds, less on NLRBE-like intentional community legal structures, and not at all on either OAEC's intentional communities course or Fair Oaks Eco-Housing.
Why?
My family and I have become increasingly interested in establishing our own NLRBE-like family compound, rather than starting or joining an existing NLRBE-like intentional community.
We still want an NLRBE. That has definitely not changed. Indeed, we want one more than ever.
I say "more than ever" because our current disenchantment with our family starting or joining an NLRBE-like intentional community is due primarily to complications involving our current monetary market and related legal systems. There's a lot to say about that. But, for now, suffice it to say, my concerns leave me all the more clear on just how much our world needs a truly systemic change.
*Important Reminder*
Please remember that, by using this site, you agree to leave no confidential information in blog post comments or elsewhere on the site, or to rely upon anything in this post, or on this site generally, without qualified, independent, confirming research (per this site's Terms of Use and Privacy Policy, which you agreed to by accessing this site).
Why? Unfortunately, on this website and in my blog posts, I can and do offer nothing more than expressions of opinion and general information, which could be inadequately researched, inapplicable to your situation, out-of-date, and/or mistaken. Thus, no statement on my website or blog posts is intended to guarantee any particular outcome for you, or to constitute any kind of advice, legal or otherwise. Qualified "advice" is customized to your particular circumstances, current, accurate, and offered in direct relationship with a qualified professional. And qualified advice is critical to obtain before you take action. I do offer qualified legal advice and assurances of confidentiality, but only within the context of attorney-client relationships, which are formed exclusively via written attorney-client fee agreements, not through blog posts, blog post comments, website pages or communications, or any other means whatsoever (however, please visit my Services page to see whether or not I am currently accepting new clients).
To be clear, none of this is to discourage any of you from creating NLRBE-like intentional communities, particularly those modeled after successful 501(d) egalitarian communities, like Twin Oaks. It is simply a matter of being honest with myself and you, about the overwhelming challenges I see with our family and with me in particular, as a lawyer, starting or joining an NLRBE-like intentional community.
However, as noted, I am still interested in exploring and writing about NLRBE-like businesses, which definitely have relevance to those interested in starting or joining NLRBE-like intentional communities.
By "NLRBE-like businesses," I mean businesses that are as eco-friendly, open-source-friendly, Creative-Commons-friendly, "pay-what-you-can"-focused, and nonhierarchical as possible.
In my case, I'm primarily focused on the idea of creating such businesses for our family compound, rather than for an intentional community. Specifically, and consistent with my earlier post, I am engaged with helping our sons experiment with transforming their passions into potential NLRBE-like businesses, which can either be maintained as family compound businesses or as their own personal businesses, should they end up disinterested in the family compound idea in the future.
In any event, I expect I'll be describing more about such businesses, as well as more about exactly what a "family compound" is, in future posts.
For now, I'll just say a few things about the family compound option.
I have recently realized that, with some careful planning, a family compound might be able to save at least a significant fraction of the natural resources that a typical 100 person egalitarian community could save, while avoiding most of the legal complications. For example, with even just my husband and myself, our two boys, and their possible future partners, as the compound's "driving adults," sharing perhaps two cars, we could get to a ratio of cars to adults that's not too different from Twin Oak's car-to-adult ratio. And with some other efforts, like becoming active fans and users of our growing, local public library's "library of things," we could make other impactful consumption reductions. On green energy, we already contract for exclusively renewable energy, through our local nonprofit energy provider. And we can continue to purchase the vast majority of our groceries from a relatively non-hierarchical, organics-focused, local-farmer focused, consumers' cooperative.
Moreover, just as could happen in an NLRBE-like intentional community, in a family compound we could focus more of our spare time on advocating for an NLRBE, by having dramatically reduced our consumption and related need for money.
In any event, given this latest shift in our family's interests, I foresee focusing less in 2015 than I have been on NLRBE-like intentional community legal structures. Also given the shift, I do not anticipate posting my series on the Occidental Arts and Ecology Center's five-day intentional communities course, which I attended late last year. There would still have been a fair amount of work left to do on it, and my heart is just not in it. Likewise, I am guessing I will neither visit nor write about Fair Oaks Eco-Housing community either, at not least this year.
Well, that's it for now. But I look forward to sharing more with you in the future, on the topic of what looks most promising to me and my family, when it comes to transitioning to an NLRBE.
In solidarity, and with abiding hope for an NLRBE.
By Tiffany Clark, an activist attorney, public speaker, and author, working to help us transition to a more sustainable and equitable world. Tiffany lives and works in Sacramento, CA, with her husband, two sons, cat and dog. You can find out more about Tiffany, her activities, and her offerings, as well as read more of her writing, at www.tiffanyclarklaw.com.

"Update to 2015 Plans" by Tiffany Clark is licensed under a Creative Commons Attribution-NonCommercial-ShareAlike 4.0 International License, however some pictures within blog posts may not be so licensed because copyrights are held by others and authorized only for my use, in which case I try to indicate this status (but, in this particular post, the one and only picture is by me and is covered by the same Creative Commons license).