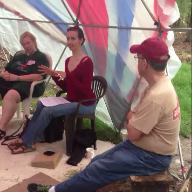 Welcome!
I am a lawyer, located in Sacramento, California.  My goal is to help people understand and transition to a new socio-economic paradigm. Specifically, I am interested in the Natural Law/Resource-Based Economy (NLRBE) model.
To that end, I am currently focused on offering my services as a public speaker, writer and interviewee, rather than accepting new clients.
For more details about the foregoing, please visit my Services page.  For details about me, please visit my About page.  And to contact me, I invite you to visit my Contact page.
I hope you enjoy my site, and that I get a chance to contribute to you in some way!
Note: The photo above is of me speaking about legal options for forming egalitarian, income-sharing communities, in late August, 2013, at the annual Twin Oaks Communities Conference, in Virginia.  For more about what I covered click here. Both this photo, and the written content on this "Home" page, I'm making available under this Creative Commons license
(however please don't hesitate to contact me if you'd like to use anything on this website in a for-profit context).